Multiplying Good, formerly known as the Jefferson Awards, looks for local unsung heroes who make the world a better place through volunteering and community service. Known as the "Nobel Prize for Public Service," the awards recognize ordinary people who do extraordinary things
INDIANAPOLIS — Students at Center for Inquiry School 2 wait in anticipation inside of a packed school gymnasium.
Michael Johnson is the Founding Director of an organization called Kids Dance Outreach.
"You ready? Ready Oliver," Johnson said to students before starting. "Don't be scared, you got this."
This was their big time to shine. Fellow peers and parents quieted down for a dance performance by participants in this Kids Dance Outreach program, which aims to provide high-quality arts education to thousands of kids across Indianapolis at no cost to them or their families.
The music starts, which includes live percussion and a pianist.
"Go, go, go!"
As Johnson said this, student after student run across the floor, or stage today, doing a leap in front of the audience with big smiles across their faces.
"My favorite part is the leaps at the beginning," Leslie Young said. "It's such a great celebration of each individual kid's spirit."
Young's son Miles is part of KDO. Miles' sister also participated.
Young says the nonprofit organization which travels to Indianapolis-area schools to teach choreography and life lessons to students gave her kids a feeling of empowerment.
"It's so fun to see Miles get to perform with his classmates," Young said.
Miles smiles next to his mom after his big performance, something he tells us, he wasn't able to do before being a part of KDO.
"Before I started KDO, I was not a dancer," Miles Young said. "I didn't like to dance in front of crowds. But it has given me the courage to like, be a performer, and perform in front of crowds."
Miles stood near the end of the line on stage left, shoulder to shoulder with his classmates as they performed a variety of steps to the music.
For him, he says it was really a culmination of all of their hard work to learn the choreography over the last several weeks and it was a chance to step out of their comfort zones.
"Like the cherry on top, it's like, you've worked so hard on it, and it's just like, you are so glad after the performance that you like really got to express yourself in that way," Miles said.
The dancers did pivot turns, or what they called "smash swivel, smash swivel" with energy and high knees and happy faces.
Qualified instructors led them through the steps as professional musicians carried the beat.
"Social interaction, listening. I go, you go. I go, you go. Question, answer. Question, answer," Johnson said. "So there is a communication, a dialogue, between the students and the teacher."
Johnson is on the mic at the showcase at CFI School 2. He praises the students after each sequence of steps.
He says they have been working with two classes of students at the school for several weeks ahead of this showcase.
"We want to give them the best opportunities, that means the best teachers, and the best music to dance to," says Johnson. "The arts are about accepting others, celebrating others differences, bringing people together."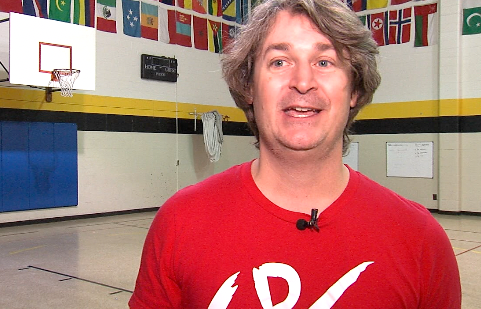 The dancers work as an ensemble in this program. The teamwork aspect helps the students build confidence and learn to praise each other for their hard work.
"Many times, we see that the focus is dramatically improved in a child's life, once they pass through the Kids Dance Outreach program," says Johnson. "Sometimes that child that struggled academically, succeeds very very well in our program."
Johnson says that applause and feeling of accomplishment for kids struggling with school or home life can transcend into all aspects of their lives.
Parent Anna Miller was at the showcase to watch her son Charlie, who is in his second year with KDO.
"I'm pretty impressed by how empowered he was when he started the KDO program," Miller said. "I think it's really shown him what he can accomplish when he puts his mind to it."
And Oscar Gonzales sat in the crowd at the showcase, cheering on his younger brother.
"I mean, it's just an amazing program," Gonzales said. "Even if you don't like going in front of crowds, it's awesome. It's just such a good experience."
Gonzales speaks from experience. He too took part in the KDO program and now takes part in some of their more advanced programming.
"When I did KDO, it really just boosted my confidence," Gonzales said. "And now I'm not afraid of going in front of crowds."
The purpose of KDO and bringing the programming into schools is about more than just teaching dance to kids.
"KDO is not just about dance. It's about like bringing each other together," Miles said. "Because if one performer was just to dance the whole show, it wouldn't be as good as if all of us did."
This programming is made possible by donations to the nonprofit. If you want to support Jefferson Award winner Michael Johnson and this organization's efforts, you can learn more by visiting KidsDanceOutreach.org