FRANKLIN — An Indiana flower farm provides a destination for families to escape the hustle and bustle in the warm-weather months.
Dollie's Farm sits just east of I-65 in Franklin and welcomes visitors young and old to relax and pick flowers from their property.
"Flowers have always been a passion," said owner Tricia Wilson. "I've always loved it."
Wilson grew up on the farm. Her family has farmed the land where Dollie's Flower Farm sits for 7 generations.
"We named the farm Dollie's because Dollie was my great-grandmother," said Wilson. "Our logo even is her signature off their marriage license from 1899."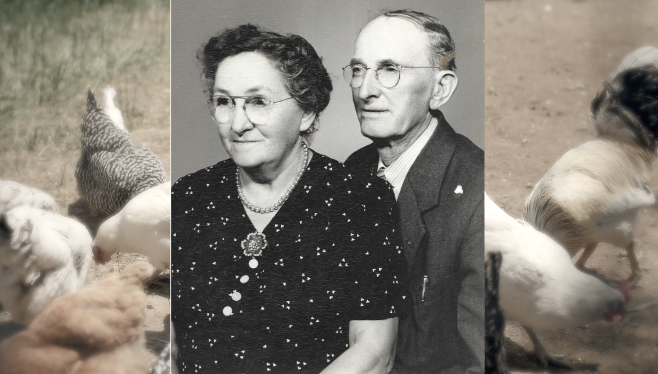 Dollie was known in the community for her eggs and butter. She had around 100 chickens and would proudly sell her eggs to people in the community.
"People would come to get those and she would put that money away and put that money away," said Wilson. "And then when they would go to town, Great-grandma would wait for Great-grandpa to go into the hardware store or the feed-ware store and then she would sneak into the bank."
After saving up enough money in secret, Dollie surprised her family with a purchase using her egg money.
"The deed to an additional 40 acres that she bought with that money that she was saving," said Wilson. That land is where Dollie's Farm sits today. "We could not have Dollie's and name it Dollie's without having the chickens."
Wilson has the chickens bell trained and they come running when she rings it. Walking along the flower beds are two of the farm's favorite characters, Mr. and Mrs. Bloom, who are peacocks.
In recent years, she and her husband Tim looked for ways to welcome visitors to a place they adore so much and that is why they opened the farm to the public.
"We wanted to make it where other people can come and enjoy the farm that we have loved so much," said Wilson. "One of the things we've really loved is watching the children run up and down the aisles or the rows that we have here between the flowers and just enjoy being outside."
The U-pick flower farm is known for its lavender blooms that accompany the little gift shop on site that is filled with the floral aroma.
Guests can grab their own shears from the shed and walk out onto the land and clip their own bouquet from the wide variety of blooms.
Wilson and her staff can help create the perfect hand-tied bouquet to take home and admire.
"I've been surprised by how many people say I've never picked my own flower how do I do it," said Wilson, who adds that is part of what she loves about having her farm open to the public. Many families in our age are removed from life on the farm and this is their experience to learn in nature. "It's free to come on the farm. We encourage families to bring kites and picnics, and just spend some quality time on the farm and then go home with a bouquet."
The business model has been success with Dollie's coming in at the No. 2 spot on Yelp's Best Flower Farms across the country for 2023.
Dollie's Farm was also a recipient of the 2021 Hoosier Hospitality Award from Lt. Governor Suzanne Crouch.
Wilson says they host showers, parties, daddy-daughter picnics, fall festivals and more with thousands of visitors stopping by the farm each season.
But it's the educational opportunities with field trips and kids that she enjoys the most because it is a chance for her to share what she has learned from the land.
"You have to rest in the dirt before you can push through and be what you are supposed to be," said Wilson. "Even though I irrigate, it's not the same as the rain, but there's nothing you can do about it. And you just have to learn. It's a whole different level of learning to just take what you got and learn how to do with that."
Wilson says families get an opportunity to put down their devices and come out into nature and just be together for a period of time without the distractions.
"There is a quiet just rest that happens," said Wilson. "A quiet peacefulness."
And for Wilson, seeing the joy her labor brings to others is a reward in itself.
"There is a reward that comes from planting something, watching it grow, watching in my case, watching it bloom, and then seeing the delight of a child's face or a mom who is picking the perfect flower," said Wilson.
To visit Dollie's or learn more about all of the events and things happening on the farm, visit their website https://dolliesfarm.com/
View the full Yelp's Top 10 List of Flower Farms to visit in 2023 list below.