CARMEL, Ind. -- A Mexican restaurant on Main Street in Carmel is serving up tasty authentic favorites, and I was delighted to see several items on the menu can be ordered with a seafood twist.
It was my first visit to Agave Bar & Grill, but a couple of my friends have been dining there a lot lately. So, I needed to see for myself why they keep going back for more.
Other than the chips and salsa that disappeared almost as quickly as they appeared in front of us, the Del Mar dishes were very popular at my table.
I ate the Del Mar Fajitas – grilled shrimp, scallops, crab meat, tilapia, onions, tomatoes, topped with shredded cheese. It was a delicious seafood combination -- sizzling hot, well-seasoned and full of flavor.
The Del Mar Burrito was hearty, and packed with shrimp, scallops, crab meat, topped with a cream sauce.
For the Moctezuma enchiladas -- we went a different route. The five corn enchiladas were filled with either angus ground beef, shredded chicken, cheese or beans, and topped with cream sauce, melted cheese and cilantro.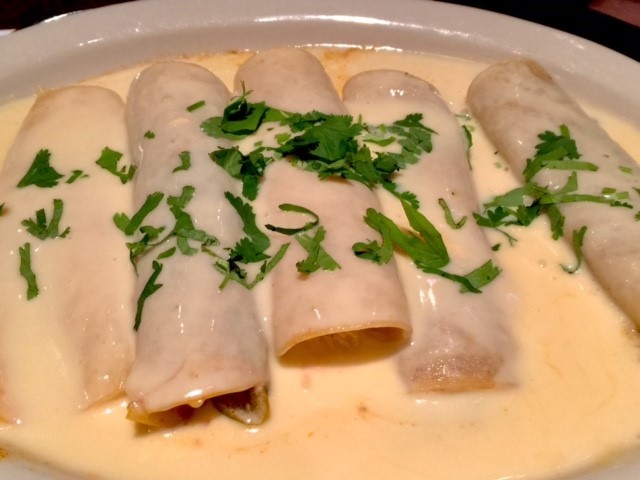 Agave Bar & Grill is under new ownership. A family purchased the restaurant in Carmel's Arts District in May 2017. They say their dishes are inspired by the different pueblos from Mexico. The restaurant has two floors for dining, with bright and colorful décor.
Have you ever eaten at Agave Bar & Grill? Tweet me your thoughts and photos to @ErickaFlye.
MORE FOOD ON THE FLYE | Tinker Street had me at 'hello' | Start with dessert at Ralph's Great Divide | Pearl Street is a hidden gem | Believe the hype about Livery | Nada's cuisine takes on a modern Mexican flair
Agave Bar & Grill is located at 31 E Main St, Carmel, IN 46032.