INDIANAPOLIS – Looking for a place you can bowl, sing your heart out in a karaoke lounge, play games from the 80s and indulge in a southern-inspired meal? Punch Bowl Social may be a place you want to check out this Saturday.
The entertainment and dining chain is opening in Indianapolis this weekend at 120 S. Meridian Street at Circle Centre Mall.
With a rustic charm infused with pops of color, Punch Bowl Social is the new place to be…well social. Guests can enjoy board games, compete against their friends and family on an $8,000 Italy-imported foosball table, play pool, ping pong and other games.
Equipped with eight bowling lanes, a photo booth, three private karaoke lounges, a 1980s arcade and over 2,000 sq feet of space, Punch Bowl Social offers a range of entertainment options.
Did we mention they have three large bars?
A separate drink menu offers a variety of flavored punches, with many of them serving up to eight people per bowl.
Watch Patrick Williams, beverage director for the company, create two drinks below:
Adult milkshakes, mixed drinks, beers, fresh-squeezed juices and non-alcoholic combinations also grace the drink menu.
If the entertainment doesn't pique your interest, the southern style menu items may. Punch Bowl Social says open till 2 a.m. on weekdays and 3 a.m. on weekends, so if you're in the mood for a late night snack, the restaurant has plenty of options.
Robert Thompson, founder and CEO of the chain and Hugh Acheson, judge and previous contestant on "Top Chef" helped craft the Indianapolis menu.
You'll find a handful of small plates, made for a quick grab and go moments when having a good time (singing karaoke, bowling or dancing to the DJ's tunes) with company.
"Given the environment, you're running around doing different things, and small plates work," said Acheson. "You're bowling, dancing on the floor and getting a drink. Sometimes you want to sit down and have a full meal and other times you want something smaller."
If you're a cheese fan, Hugh's Pimento Cheese is a small plate wrapped with cheddar. It is made with roasted peppers, mustard, salt, pepper, cayenne and whipped together into a spread, then topped with a bacon marmalade.
"The food is very much meant to be a celebration of southern food but its comfort food for all of the right reasons," said Acheson. "It's simple food you don't get to hide behind much. It has integrity and authenticity and that's what we're striving for. There are also a lot of contemporary and lighter options of the menu."
Burgers, sandwiches, salads and heartier plates are also on the lunch and dinner menu.
Lunch and dinner menu? Yes, Punch Bowl Social has brunch served every day until 3 p.m. The Top Chef judge said offering brunch was perfect for their atmosphere.
"People want an excuse to have a Bloody Mary," he said with a laugh.
Late risers will discover mushroom biscuits and gravy, mimosas, monkey break French toast, chicken and waffles and an assortment of salads and breakfast sandwiches.
A popular item on the brunch menu is the chicken biscuit. It's made with warm bread topped with a spicy honey glaze, butter pickles, a juicy, seasoned chicken breast and served with crisp potatoes.
Acheson said he enjoys the superfood grain bowl on the brunch menu made with, crispy farro, quinoa, kale, radishes, carrots and other gluten free, vegetarian ingredients.
A kid's menu is also available.
Outside of the games, drinks and food, Punch Bowl has the atmosphere for any type of mood you may be feeling. The Holiday Lodge facing the Circle Centre mall entrance, allows you to relax and enjoy TV on vintage black couches.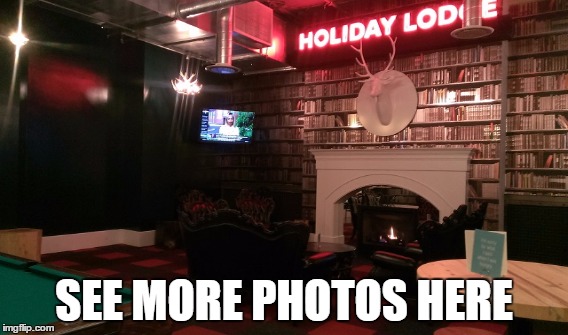 "We want people to treat us like their neighborhood bar," said Thompson, founder and CEO. "There may be people who come in to dine and there might be a ton of people who come just to bowl, drink and have a good time. We do a lot of large events. We can have multiple events going on and still be open to the general public."
The space can handle anywhere from a group of 10 to 800. Currently, a staff of about 160 has been hired but management hopes by opening, that number will be up to 200.
Some may think why would Punch Bowl Social set up shop in Centre Mall, where a boat load of other restaurants are already located?
Thompson said the chain likes to be in restaurant "districts."
"The mall access is great because it gets pretty cold here and its connected to heated parking, but it's just a bonus. We just happen to connect to the mall. Our main entrance is on Meridian," said Thompson.
Punch Bowl Social's grand opening is set for Sept. 24 from 7-9 p.m. After the grand opening, it will open to the public.
For more information, visit punchbowlsocial.com.