LAKEWOOD, Colo. — The remains of Suzanne Morphew, who was reported missing in May 2020 out of Chaffee County, have been found in Saguache County, the Colorado Bureau of Investigation (CBI) announced Wednesday afternoon.
CBI said human remains were discovered during a search in connection with an unrelated investigation on Sept. 22 around the Town of Moffat. The remains were positively identified by the El Paso County Coroner on Sept. 27 as belonging to Suzanne Morphew, CBI said. Her family has been notified.
Moffat is about 45 miles south of the Maysville area, where Suzanne was last seen.
Remains of missing mother Suzanne Morphew found in Saguache County
No arrests have been made since the remains were located, CBI said. Her husband, Barry Morphew, was initially accused of killing her in 2020 before that case was dismissed in April 2022. In May, he filed a civil rights lawsuit seeking $15 million, claiming his arrest affidavit included false and misleading information.
CBI said specific information on exactly where the human remains were found — and the state of them — is being withheld. On Thursday, Denver7 Investigates confirmed that she was identified by her dental records and her body was found in a shallow grave.
Chaffee County Sheriff John Spezze said the case garnered attention from around the world.
"We have never stopped our investigation and will continue to follow all leads in pursuit of justice for Suzanne," he said.
In a statement, Iris Eytan, Barry Morphew's attorney, said the family is "struggling with immense shock and grief." She said the Morphews "had faith that their wife and mom would walk back into their lives again." Barry Morphew is with his daughters, she said, though the women were not notified by the district attorney or authorities.
Eytan issued a second statement on Thursday to Denver7, in which she said Suzanne Morphew's remains were found in a dry desert field of sagebrush and natural grasses. She stressed that investigators initially believed her body was in a difficult spot to access in a rocky mountainous area that would see 6 feet of snow in the winter. Instead, officials with Saguache County were the ones to find her remains while they searched for another missing woman, Edna Quintana.
Attorney for Barry Morphew releases statement after woman's remains are found
"At no time did the FBI, CBI, Chaffee County Sheriff Office or DA's Office pinpoint or even generally claim that Barry was in any area south of his home, near Moffat or anywhere near Saguache County at any relevant time frame. It would be ludicrous for anyone to now try to fit the now known facts to prior false assumptions and accusations," Eytan said.
"What needs to be done instead of pointing fingers at Barry Morphew, is asking the officials about the number of missing people and number of human remains that have been recovered in or from Saguache County in the recent past," she continued. "Whatever happened to Krystal Reisinger, Edna Quintana, Suzanne, the man whose remains were found by Saguache County Sheriff's office in the foothills on July 26, 2023, or the remains of the person found in another area in Saguache County last weekend. What were the circumstances of their disappearances, what is cause and manner of death of the remains found in the area, what happened to them, are they looking for other remains in this area? The public should demand answers about these five people who suspiciously went missing or were found dead in this area."
Lastly, Eytan said the Morphew family and their legal team believes the CBI, local law enforcement and the district attorney's office have a conflict of interest and should not be involved in the investigation.
Background on the disappearance of Suzanne Morphew
Suzanne Morphew, who was 49 when she disappeared, had been missing since May 10, 2020 — Mother's Day — from the Maysville area in Chaffee County. A neighbor called 911 to report that she had gone for a bike ride and never returned.
Investigators started rigorous searches in the area and created a tip line. Her husband Barry Morphew and a family friend said they were offering $200,000 for her safe return. Her bike and helmet were both found, but there was no sign of Suzanne. Investigators obtained DNA evidence from the bike, helmet and Suzanne's vehicle.
After the summer of 2020, the case went quiet for several months, with very few updates. By September, family-led and volunteer searches restarted in the area. But they came to any end with no evidence found.
Based on phone data, investigators said that Barry's cell phone showed that around the time his wife went missing, he turned onto a highway and passed where her bike helmet was ultimately found before turning around to go to work, according to his arrest affidavit. He told authorities he was following an elk.
Barry spoke with investigators and did not admit to any wrongdoing.
CBI forensic analysis determined that an unknown male DNA on the bike helmet, bike, Suzanne's car's glovebox and the backseat of the car did not belong to Barry. That DNA was later determined to partially match DNA found in three out-of-state unsolved sexual assault investigations.
READ MORE: 'Lion, mountain lion?': Video shows Barry Morphew's reaction to police finding wife's bike
In late April 2021, CBI learned that the Chaffee County Sheriff's Office was going to arrest Barry, which was strongly opposed by two CBI agents, who cited the need for more forensic testing and evidence collection. According to the Motion for Discovery, the head of the Major Crimes Division of CBI reached out to the sheriff to advise against arresting Barry. The CBI director communicated the same afterward.
Almost a year after Suzanne disappeared, Barry was arrested on May 5, 2021 on multiple charges, including first-degree murder.
Local News
Suzanne Morphew timeline: From missing persons report to discovery of remains
6:53 PM, Sep 27, 2023
Barry also faced charges of tampering with physical evidence, attempting to influence a public servant, tampering with a deceased human body, and possession of a dangerous weapon. Barry pleaded not guilty to the charges. At the time of his arrest, the Chaffee County sheriff said he did not believe Suzanne was alive and they were not searching for any other suspects.
In a separate case, Barry was also charged with forgery after he allegedly submitted a mail ballot in his wife's name. He later pleaded guilty to forgery of a government-issued document in July 2022 and received a one-year deferred sentence and community service.
Denver7 covered each day of Barry's preliminary hearing in August 2021. To learn about the court discussions in depth, click to read day one here, day two here, day three here, and day four here. In total, the hearing included 20 hours of testimony and included enough evidence for the murder case to go to trial, Chaffee County Judge Patrick Murphy ruled in September 2021.
Prosecutors had argued that Barry discovered his wife was having an affair, then killed her, disposed of her body and staged a bike crash in a rural area.
The judge ruled on Sept. 17, 2021 that the case would go to trial. He also set a cash-only bond for $500,000.
Three days later, Barry was released on that bond and his 130-page arrest affidavit, which detailed the allegations into why he was arrested in connection with his wife's disappearance and alleged death, was made available to the public. The affidavit was authored on May 4, 2021.
360 in-depth: Barry Morphew released on bond
The document detailed monthslong investigations and numerous law enforcement interviews with Barry. It did not include that CBI did not support the arrest.
READ MORE: Barry Morphew released on bond; affidavit claims he fabricated stories surrounding wife's disappearance
In addition, the document did not inform the judge of the DNA found on the bike helmet, bicycle and glovebox — still from an undetermined source — and that Barry's DNA did not match.
When Barry was released, he had spent a total of five months in jail unable to post bond.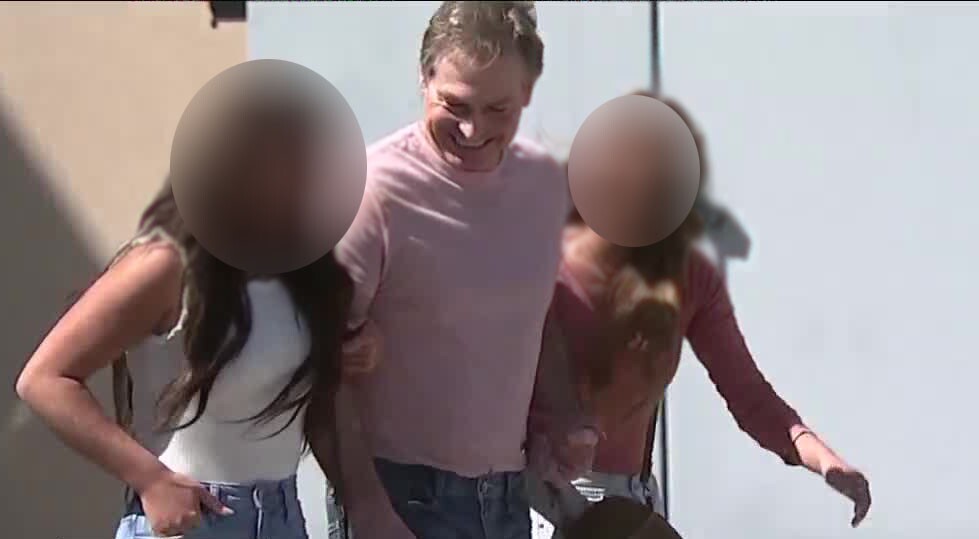 A little more than a week after Barry's September 2021 release from jail, a woman who was suspected of having a relationship with Barry was arrested on a trespassing charge after allegedly entering the property of where the Morphews used to live. The woman was later arrested and identified as Shoshona L. Darke of Salida. She faced a charge of second-degree trespassing. In October 2021, Judge Murphy disqualified himself from that case, citing that one of the individuals representing Shoshona had a longtime friendship with the judge, which included their time in high school.
As a result of that move, Judge Murphy announced in December 2021 that he had also granted the motion to disqualify himself from the Morphew case due to a friendship with a possible witness's attorney. In early January 2022, Judge Ramsey L. Lama was appointed to take over the case.
According to documents obtained by Denver7 in October 2021, attorneys representing Barry said they intended to sue prosecutors and investigators for what they claim was unlawful arrest, malicious prosecution, and defamation. Attorneys said investigators omitted crucial evidence in the case, including DNA evidence from an alleged sex offender, and engaged in "extreme and outrageous conduct." They said they intended to file a lawsuit against 26 individuals associated with the Chaffee County Sheriff's Office, the 11th Judicial District Attorney's Office, the Colorado Bureau of Investigations, and the Federal Bureau of Investigations.
The documents indicated that the attorneys alleged that DNA evidence found in the glovebox of Suzanne's car matched "the same profile as a single or multiple individuals across the country involved in sexual assault cases," and said that after a year of having the evidence, Chaffee County Deputy District Attorney Jeff Lindsey followed up on an individual in Phoenix who appeared to match the DNA profile found on Suzanne's glovebox, but the Arizona individual refused to cooperate and retained a lawyer. As the case moved from the investigation stage into the courtroom, it gained more and more local and national attention, media coverage and negative pretrial publicity, according to an order. As a result of this, the court decided on Feb. 1, 2022 Barry could not receive a fair trial in Chaffee County, and the case was moved to Fremont County. The case was set to stay in the 11th Judicial District.
"This is a high-profile case in a relatively small county with a small jury pool," the order reads. "The media saturation is high."
About a week after the announcement that the trial would move counties, Barry's defense team filed a motion to dismiss the first-degree murder case against him, noting that an investigator had recently called the arrest "premature." His attorneys claimed the remarks made by CBI Agent Joseph Cahill during a Dec. 2, 2021 internal affairs interview were grounds to dismiss the case. Cahill worked on the investigation shortly after Suzanne went missing. In the defense's motion, attorneys claimed that Cahill said Barry's arrest was premature and the "worst" decision that could be made.
Morphew attorneys file motion to dismiss case after investigator calls arrest 'premature'
Defense attorneys argued that that conversation was not brought up during previous court hearings and that they only learned of Cahill's interview in January 2022 and saw the taped conversation in February. They asked the judge to dismiss the case because of "prosecutorial discovery violations."
A few weeks after that was filed, on Feb. 23, 2022 prosecutors filed a response, calling the defense's motion "utter nonsense" and said Cahill had been "thoroughly discredited," and was only offering his opinion.
On April 19, 2022, a Fremont County judge granted the prosecution's motion to dismiss the murder case against Barry. The motion asked the court to dismiss the charges without prejudice, meaning he could be tried again if prosecutors refile charges.
Judge grants prosecution's motion to dismiss Barry Morphew murder case
The prosecution listed two reasons for asking for the dismissal: First, that law enforcement said they believed they knew where Suzanne's body was located and they needed snow to melt to find her. Second, prosecutors said they feel that because the judge in the case ruled in 2022 that they could not call most of their expert witnesses at trial because of discovery violations, they would need to find Suzanne's body to prove the case.
After this motion was granted, Barry's defense attorney Iris Eytan said there had not been "a single ounce" of physical evidence connecting Barry to Suzanne's death. She said her team was going to get Barry acquitted after a trial.
The two Morphew daughters — who were 20 and 16 at the time of Suzanne's disappearance — said their father isn't a killer and celebrated the dismissal of the case.
In mid-April 2023, Barry's attorney, Eytan, called for an investigation into the 11th Judicial District Attorney and the six other prosecutors in that office, citing a pattern of unethical conduct. Eytan filed a complaint March 29 with the Colorado Office of Attorney Regulation asking for discipline for District Attorney Linda Stanley and the other prosecutors who worked on the murder case against Barry.
Local News
Barry Morphew attorney calls for investigation into prosecutor
2:35 PM, Apr 18, 2023
"When the case is dismissed without prejudice on April 19, 2022, I was stunned, " Eytan said in April. "I didn't want the case dismissed. I wanted the case to go forward and I wanted them to try and prove their case because I knew we would exonerate Mr. Morphew. I knew we would."
Eytan said in a press conference that she was requesting for those prosecutors to be disbarred, if not severely disciplined.
"Their case was baseless to begin with. Their affidavit they filed was like a tabloid, filled with misrepresentations, false information and concealed extremely favorable evidence," she said.
The 11th Judicial District Attorney's Office said after the press conference that it had not yet received a complaint and could not comment.
"It is disappointing that Ms. Eytan appears to be seeking to circumvent the procedures in place that protect due process by holding a press conference before any official action has taken place," the statement read.
About two weeks later, Barry filed a federal civil rights lawsuit in early May 2023 seeking $15 million over his arrest and first-degree murder charge in 2021. In the 185-page suit, he claimed his Constitutional rights were violated by the defendants and that his arrest affidavit included false and misleading information and, as a result, he was wrongly held in jail for about five months.
Barry Morphew attorney calls for investigation into prosecutor
"Defendants authoring the Arrest Affidavit knowingly, recklessly, and maliciously omitted material, exculpatory information and included misleading and false information," the lawsuit read.
A few weeks later, in an interview with "Good Morning America," Barry said authorities in Colorado have been wrong to focus on him as the person responsible for the death of his wife.
Barry Morphew, once charged in missing wife's presumed death, denies involvement in ABC News interview
---
The Follow Up
What do you want Denver7 to follow up on? Is there a story, topic or issue you want us to revisit? Let us know with the contact form below.