INDIANAPOLIS – Fresh seafood in Indiana? Sounds like a dream in practically any state in the Midwest, but Mass Ave's newest restaurant will make you think twice.
Salt on Mass is tucked into the bottom level of the new Millikan on Mass building and opened to the public Aug. 23 at 505 Massachusetts Ave.
The restaurant specializes in seafood in a polished casual environment. But seafood varieties aren't the only items you'll find on the menu: Steaks and cocktails are also their specialty.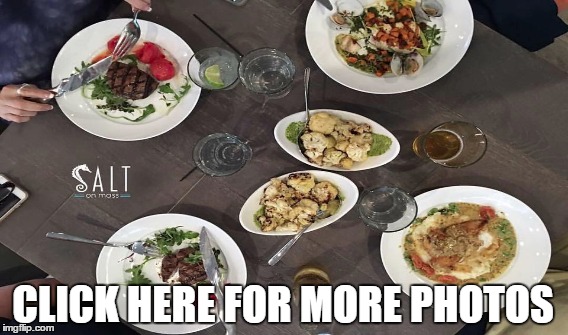 The seasonal menu has a fair mix of dishes like Kona tacos, calamari, shrimp cocktail, small salads and a variety of sides including mac and cheese (add lobster if you'd like), grilled broccolini, roasted cauliflower, grilled asparagus and potatoes.
If you're a lover of fish, you'll need to try the Alder Plank Grilled Copper River Coho Salmon. The fish is topped with smoked Bristol Bay sea salt and orange honey blossom for a dash of sweetness. Yukon Gold potatoes mix well with the honey glaze for a crusted outside but soft inside.
Neil Andrews, former chef at The Oceanaire Seafood Room, is the executive chef at Salt.
The "Shor" section of the menu features five different styles of fish along with Alaskan crab and Key West pink shrimp.
Customers are also invited to enhance their dishes with items like shrimp, crab, mushrooms, lobster tail and more.
If seafood wasn't enough of a treat, you have the option to skip street parking and take advantage of their valet parking service. In the event you really want to set up the best experience, a separate private dining area is available.
If the aforementioned reminds you of a fine dining restaurant, you've got it all wrong.
The tan hardwood floors accompany the "dining along the ocean" feel. Think royal blue accents, tan and white stripped curtains and brown rope as decor.
The calm and casual atmosphere welcomes a mix between jeans, tennis shoes and your best button down shirt. Remember there is a full bar and beer on tap (this should remind you of the dress code).
Compared to other Mass Ave restaurants, Salt offers a unique experience, and menu to go along with it.
More information on Salt on Mass can be found at saltonmass.com.