McCORDSVILLE — The future is looking bright for Indiana's largest round barn after a tornado severely damaged it earlier this year.
"She's going to be pretty solid when they get done with it," Gary Kingen said.
Kingen told WRTV's Kelsey Anderson, he'll never forget February 27, 2023.
As an EF-1 tornado passed over his farm he saw the shingles, doors and windows of his barn being damaged. He worried the 120+ year old barn wouldn't survive the damage.
"Every morning I come out and look at it," Kingen said.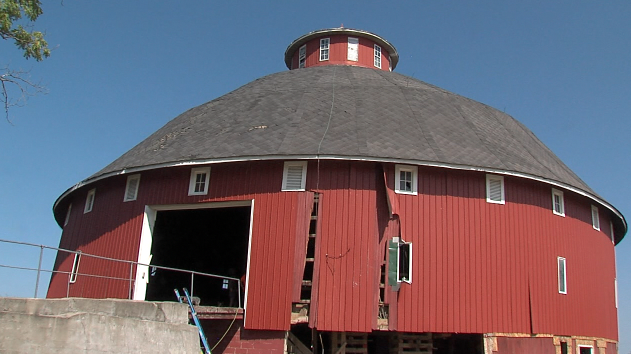 In Hancock County Kingen's barn is a landmark, a point of pride and a piece of history.
Standing 103 feet tall and 103 feet wide, the Littleton-Kingen Round Barn is the largest in the state.
"When my great grandpa came in 1903, the barn was brand new and I was born and raised here," Kingen said.
After the storm the Indiana Barn Foundation connected Kingen with Rick Collins and his team at Firmitas.
"I find it an honor to work on these buildings," Collins said.
Collins is an architect specializing in old building preservation. He is fixing and shoring up the old round barn.
"When it gets smacked by the wind, or it gets loaded with snow on one side it's sort of like a bicycle rim with no spokes. So what we have to do with round barns a lot is put spokes in them," Collins said.
The work he's doing is changing the barn's look but securing the future.
"The stuff upstairs that they've done has taken away a little bit from the old barn look that I've seen all my life but that's the way she's going to be no," Kingen said. "It's pretty good architect up there."
They are hoping to wrap up the project in a few weeks and hope the barn will stand tall for another 100 plus years.
"There's still the ways to go but they're going to get her," Kingen said.
The Indiana Barn Foundation played a major role in connecting Kingen and Collins.
The IBF started in 2013. Its main goal is to maintain and preserve Indiana's historic barns.
You can learn more about the Indiana Barn Foundation here.