HOWARD COUNTY, Ind. -- A small tree was planted at the entrance of Ladd Dental Group on Wednesday in remembrance of a Howard County Deputy who was killed in the line of duty last year.
Deputy Carl Koontz, 27, was shot and killed last March while serving a warrant at a home in Russiaville.
His wife, Kassie, works for the Kokomo dental office.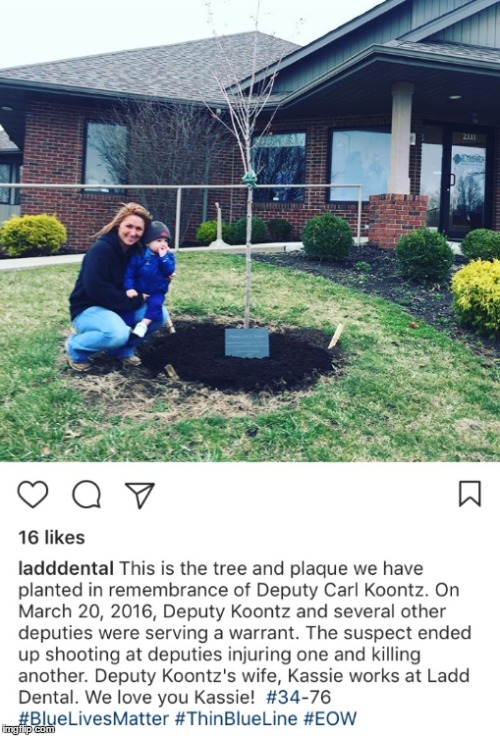 The company planted the tree in honor of Deputy Koontz along with a plaque that read, "Gone but never forgotten."
The Koontz's son, Noah, was only 8-months old when his father was killed.
PREVIOUS | Two Howard County deputies shot, one fatally, while serving warrant | Who is Evan Dorsey? Suspect in Koontz killing | Procession escorts Deputy Koontz to Kokomo | 'Deputy Carl Koontz was one of our family' | Community remembers Deputy Carl Koontz | LISTEN: Final radio call for Deputy Carl Koontz
WATCH | Deputy Koontz's widow delivers his eulogy | Fellow officers remember Deputy Carl Koontz | Sheriff: We are all better for Carl Koontz | Donnelly: Eternally grateful for Carl Koontz | Pence: Deputy Koontz was an 'Indiana hero'
PHOTOS | Deputy Carl Koontz laid to rest  | Remembering fallen Deputy Carl Koontz