The police department in New Orleans, Louisiana found it needed to attract a more diverse police department and through money from a nonprofit, the department made the decision to work with a local director to create a promotional ad that could help NOPD achieve its diversity goals.
The department worked with filmmaker Crista Rock who says she pitched the idea for a recruitment commercial highlighting the city's "amazing culture." She wanted it to be something that would show an officer standing "tall and proud, protecting what we all represent," Rock said.
And it appeared the department got what it wanted through Rock's vision.
The 30 second ad is exciting, it's colorful and full of fascinating scenes with people celebrating like every moment is worth a party. It's what you'd expect to see in New Orleans in 2023. What the police department didn't expect to see were hateful comments online in response to the recruitment spot. And neither did the ad's director.
Rock said, "I was hopeful that the ad would attract folks who want to be part of our diverse community and embrace us all. I had no idea what a lightening rod it would be."
As NOLA.com reported, the New Orleans police department posted the commercial online to its social media accounts at about 9 a.m. on Wednesday. And hour later, the video was taken down by the department.
A public information officer with NOPD said based on comments under the video's post, the department didn't want anyone to be "offended by the negative commentary," he told NOLA.com.
The comments were called horrible and slanderous.
In one of the remarks, someone said "NOPD doesn't hire sissies," and "why are these grown men shaking ass?," reports said
The ad, which also features a clever usage for part of a quote from the famous American playwright Tennessee Williams, where he says "America has only three cities: New York, San Francisco, and New Orleans. Everywhere else is Cleveland," gave the ad much of its character as well.
At the end of the 30 seconds, Rock playfully and somewhat competitively overlays the words "Everywhere else is Cleveland," meant as a powerful statement on the city's unique character and draw for many.
"I honestly thought people wouldn't get the Tennessee Williams joke, and would instead be offended by that. But, instead they were offended by a gay man dancing," Rock said.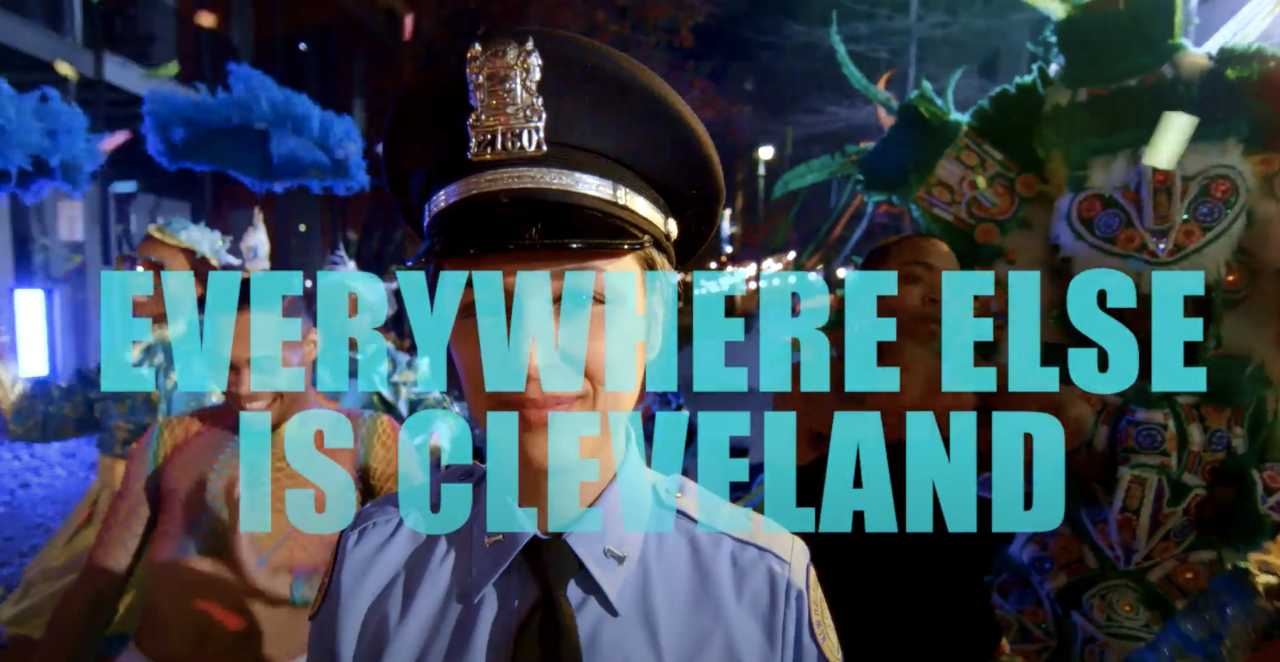 The ad was funded with $27,550 from the non profit "New Orleans Police & Justice Foundation," and featured some mainstays of any Mardi Gras including various characters tied in with the history of the celebration.
It also featured backup dancers for bounce music icon and American rapper Big Freedia who has worked with superstarslike Beyoncé, most recently featured heavily on her hit "Break My Soul."
The New Orleans police department, which began an outreach program, was responding its placement under federal oversight for not sufficiently fixing issues related to profiling on the basis of ethnicity and LGBTQ status, according to reports.
After the department didn't appear to be working out a way to repost the recruitment video, Rock's view is "NOPD should have stood up against the hate and made a strong stance against it. Instead they pulled the ad and ran. I feel absolutely terrible for all the LGBTQ officers who are looking at this."
As NOPD spokesperson Reese Harper told local media, "The video was removed because we did not want anyone to be offended by the negative commentary."
New Orleans police didn't immediately respond to Scripps News when asked if the department would consider posting the ad again at any point in the future.