NEWS CASTLE — 'In 49 states it's just basketball, but this is Indiana.'
You've heard the line - but you may not know how true it really is.
The Hoosier history of basketball runs deep, but for Women's History Month we're taking a look back at some of the women who pioneered the sport right here in the Hoosier state.
If you visit the Indiana Basketball Hall of Fame in New Castle, the best Hoosiers to play the game are on display; Larry Bird, Steve Alford, even Oscar Robertson.
Sure those men were all great basketball legends, but the history of women's basketball here in Indiana is a lot more pivotal and so much more interesting.
"I never got to play," Donna Sullivan said.
Donna Sullivan coached basketball in Seymour for more than 30 years. She grew up around the game but was never allowed to played.
"I never got to play," Sullivan said. "I grew up watching Indiana basketball. My brothers both played so I always played against them."
Her story wasn't unique in the 1960s, many girls who grew up around that time were never allowed to play certain sports in school.
"I did not play. In high school, actually, we never did basketball," Darlene Mathew said.
Although she never got to play the sport herself while in school, Mathew was a basketball coach before becoming the Athletic Director at Westview High School.
"Fortunately, we had good girls and we won sectionals the first three years it existed," Mathew said.
It may seem like ancient history, but it actually wasn't that long ago that girls' basketball wasn't even played at the high school level.
And even when they were finally allowed, girls basketball wasn't the game we know now.
"The very first team in Seymour was in 1970 and had six players with unlimited dribbles. (There were) two guards, two forwards and two rovers," Sullivan said.
Sullivan said the girls made their own jerseys with t-shirts and paint.
The girls sport started as six on six basketball and transitioned to five on five in 1971 with a 30 second shot clock.
Once Title IX was passed into law in 1972, more schools added it as a girls sport, which would change the lives of young women across the country.
Title IX prohibits sex discrimination at educational institutions that receive federal funding in primary, secondary and higher education.
"It was bizarre, and it was exhilarating, and it was fantastic, and I can't imagine my life how much different it would have been without the game of basketball," Judi Warren said.
Warren played in the first Girls' Basketball State Championship Game in 1976.
At the time she was a senior at Warsaw High School.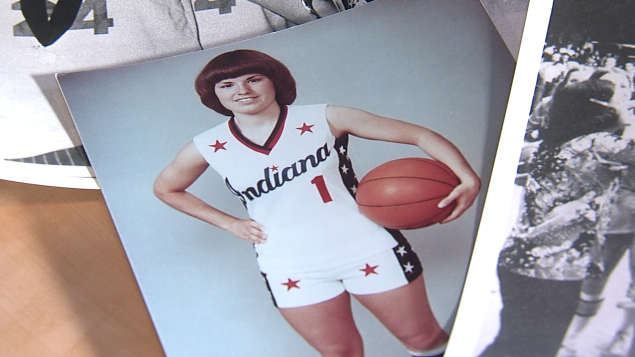 "We set our goal then that we were going to be the first state champions," Warren said. "We had a pretty good team, but we had no idea because nobody ever followed girls' basketball back then. There wasn't anything in the newspaper, radios, TV or anything that told you what other teams were doing."
Warren led the Tigers to a victory and was named Indiana's first Miss Basketball.
"I was able to work the very first girls' state tournament here in the state of Indiana," said Theresia Wynns.
That historic game wouldn't have been possible without officials like Wynns.
"I did not intend to begin officiating, but as I did it, I enjoyed it," Wynns said.
Wynns officiated that first state championship game between Warsaw and Bloomfield.
"I would say there were more officials, female officials, at that time than there are now," Wynns said.
She said they tried to recruit more women to become officials.
"And they said no," said Wynns. "They wanted to continue to play, or they wanted to be coaches, but they did not want to be officials. You asked them why; well, it was the pressure of work in the game and getting the calls correct. At that time some said that the crowds were too loud and too boisterous."
Outside the court lines, coaches like Darlene Matthew and Donna Sullivan helped paved the way for Hoosier girls.
"I grew up believing that everyone was equal, and I grew up on a farm," Matthew said. "In my father's mind, there was women's work and there was everybody's work. To me, there was no such thing as jobs that were for a man only, so I had a mindset that I could do anything."
"I wanted to give back to the kids I coached," Sullivan said. "I wanted to give an opportunity to do something that I never got a chance to do, and that was play basketball in front of a crowd. We just played on the playgrounds, except in high school the boys' coach asked me to come show them how to shoot left hand hook shot."
"I think the future of women's basketball is fantastic," Warren said.
Now, more than 50 years later, they shared their message to current and future players:
"Girls can do whatever they want to. You can achieve whatever you want with whatever sport it is, and athletics can be what you want to be."
- Donna Sullivan

"Don't give up if it's something that you want to do. Get out there and at least try it."
- Theresia Wynns

"Take that opportunity to participate and be a part of a team. It teaches you so many things and it helps you grow as a person."
- Darlene Mathew

"Play for fun and play for passion. Work hard, set a goal. No goal is ever achieved without hard work."
- Judi Warren
This summer Donna Sullivan will become the first female president of the Indiana basketball Hall of Fame.
About the inductees:
Donna Sullivan
Began coaching at Seymour in 1970, retiring in 2001 … career includes 10 sectional and five regional championships, one semi-state, one final four, two conference championships … career record 344-241 … Indiana Coaches of Girls Sports District 5 Coach of the Year four times … conducted clinics in Africa in 1985 … National Federation of High School's Robert F. Kanaby Citizenship Award in 2001 … Indiana Coaches of Girls Sports Service Award in 2000.


Indiana Basketball Hall of Fame
Darlene Mathew
46-year career as teacher, coach and athletic administrator at Westview High School… became the girls basketball and volleyball coach in 1975, winning three straight basketball sectionals the first three seasons of IHSAA competition with an 84-38 record (.689) with no losing seasons in seven seasons as head coach… became Westview girls sports athletic director in 1980-81 and athletic director for all Westview sports in 1989-90, serving in that role for 32 years… in her tenure as athletic director, Westview teams won 95 sectionals, 1999 and 2000 boys basketball state championships, 2006 girls basketball state runner-up, nine girls individual state champions in track and cross-country and four boys individual state champions in track and cross-country… a member of the IHSAA Girls Advisory Committee, Past President of the Indiana Coaches of Girls Sports Association, a member of the Indiana Interscholastic Athletic Administrators Association, member of the National Interscholastic Athletic Administrators Association and the Indiana Basketball Hall of Fame Women's Committee.
Indiana Basketball Hall of Fame
Judi Warren
Holds a special historical role in women's basketball in Indiana, being Indiana's first Miss Basketball and a member of the first IHSAA Girls' Basketball Championship Team in 1976 coached by Hall of Fame inductee Jan Soyez … hit five free throws in the final sixty-four seconds to ice a 57-52 triumph over Bloomfield before a crowd of 7,362 … chosen as the first recipient of the Mental Attitude Award … after graduating from Franklin College she coached at South Dearborn, Maconaquah and Carmel High Schools … while at Carmel she guided the Greyhounds to a state runner-up finish in 1995.


Indiana Basketball Hall of Fame
Theresia Wynns
Licensed official for 19 years, working basketball, swimming, track and field, and volleyball from 1973-92…worked 12 sectionals, 11 regionals, and three state finals in volleyball13 sectionals, 13 regionals, 13 semi-states and six state finals in girls' basketball…officiated girls' basketball state championship games in '77, '81 and '86…named Indiana's outstanding girls' basketball official in 1983 by the IHSAA and the National Federation of Interscholastic Officials Association…active leader in Fall Creek Officials Association…rules interpreter in basketball and volleyball for the FCOA and at the state level…joined the IHSAA as an Assistant Commissioner in 1997, responsible for girls' basketball, boys' and girls' soccer, and boys' and girls' tennis and oversees the IHSAA's Officials department.


Indiana Basketball Hall of Fame