GREENWOOD — As race fans across the Hoosier state get ready to celebrate the 107th running of the Indianapolis 500, one local family will celebrate 100 years of racing history.
Susannah Stapp flips through laminated photos and newspaper clippings she has collected over the years.
The amount of old photographs and information fills several 3-ring binders that rest on the tire of a race car.
"We are totally a racing family," Susannah said. "And it's just something that means a lot to me."
The Brownsburg native is in her 22nd year working for Hoosier Tire Midwest, the midwest distributor for the largest race tire manufacturer in the world.
While she spends many weekends traveling to races, it's not just her job that connects her to the race track. Racing is in her blood.
It all started on July 4 of 1923 when a 20-year-old man in California earned $10 winning a race on a dirt oval track. His ride suffered $60 worth of damages.
Susannah holds up a black and white photograph of a young man sitting in an old race car. He has goggles on his forehead, a glass bottle of Coca Cola in hand with a small grin on his lips.
"Learning about my grandfather through newspapers, pictures and stories has been really special to me," Susannah said.
Another photo shows men with high stockings and caps and that same man behind the wheel of an old race car, with a faint image of a pagoda in the background.
Speedway was a town that just became incorporated in 1927. It was a community of about 500 residents coming into its own in the shadow of the Indianapolis Motor Speedway.
A young man from Los Angeles came roaring into town in a roadster with a rumble seat. He rode in that rumble seat across the country, making the 7 day journey to Indianapolis. He was rained on for four of those days.
That May, Elbert "Babe" Stapp was poised to run the race as a rookie in the 15th International 500 Mile Sweepstakes Race. His name can still be found on the rookie wall inside the IMS Museum today.
"His name was actually Elbert," Susannah said. "He didn't really care for it either."
Babe, as he was known, was Susannah's grandfather.
"This is his pacemaker," Susannah said, holding up a gold medal. "It actually commemorates the fact that he led laps at the Indianapolis 500."
Susannah then shows off a really unique piece of family history, an old trophy riddled with bullet holes.
A customer of hers found the trophy, not on a base and just rolling around on the ground in Delphi, where it had been used for target practice in the woods.
You can still make out the inscription and Babe Stapp's name. The customer recognized the name and knew he had to get the trophy back to Susannah.
She got it mounted on a base and says it is definitely a conversation starter. It is also the only trophy she has from her grandfather's racing career.
Babe participated in 13 Indianapolis 500 races before his retirement in 1940, giving up the dangerous career as a driver as he became a father to Steve Stapp.
Steve was also bit by the racing bug and climbed into his first race car at the young age of 14.
Johnny Parsons Sr. had given Steve a midget frame that Steve built into his first race car.
At 14-years-old, he wasn't old enough to drive the midget or even a vehicle to haul it to race tracks.
Finally at 17-years-old, his racing career began. He eventually moved on to sprint cars, which he drove until 1965 when he too retired from racing and became a father.
He jumped head first into his passion in car building. Steve also fielded rides for other drivers, like AJ Foyt, Mario Andretti, Johnny Rutherford and Pancho Carter.
He eventually moved his family to Brownsburg to put down roots near the racing capital of the world.
"He built a shop in Brownsburg. He built all these race cars in that shop," Susannah said. "We still own that shop to this day."
In 1973, Pancho Carter first drove for Steve. The pair made history together, winning 40 USAC races from 1973 to 1980, along with 2 USAC National Sprint Car Championships in 1974 and 1976.
"He and Pancho were like lightning in a bottle, just let them loose," Buzzy Dobbins, a close friend of Steve and the Stapp family, said.
Buzzy grew up in Louisville, but eventually moved to Scottburg to own a car dealership. He says he and Steve became like brothers.
"All of a sudden, my good friend grabs me by the back of the neck and takes me through the most exciting part of my life," Buzzy said. "I spent hours working on those cars with Steve."
Susannah says Buzzy is like family to her.
"Buzzy is a part of my life," Susannah said. "I don't remember a time when Buzzy wasn't there."
It was Buzzy who encouraged his best friend to restore some of the cars he had built.
"I kept wanting them to be restored by Steve, who designed them, built them and raced them," Buzzy said. "Steve was one to build race cars to run on tracks, not to be in museums."
A fter more encouragement, the pair got to work, along with others who helped along the way.
Buzzy told Steve, "Whatever it takes, you need to get those cars up for history."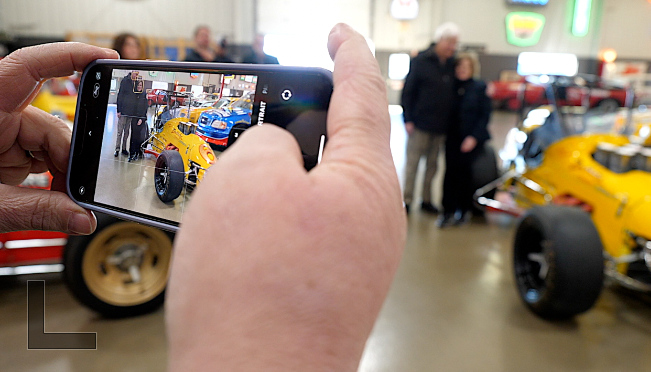 On a brisk, sunny day in March of this year, family and friends of the Stapp family gathered in Greenwood outside of Ray Skillman's private car collection.
It's an expansive museum in itself, and that day, the big overhead doors opened to welcome two new members to the impressive classic and race car collection.
Steve passed away in 2021, but Buzzy kept his promise and continued the work to make sure the cars were restored to their full glory.
Buzzy also brought the cars to the site to unveil the finished works of art to the next generations of the Stapp family.
Steve had married Rosemary, and the pair had two children, Susannah and Andy.
Andy also raced, like his father and grandfather before him, and now his two sons have taken up racing as a hobby.
"They run outlaw carts, mini sprints and go-carts. They actually started off running dirt bikes," Susannah said.
The family and friends wiped a few tears as Buzzy passed the cars down to Steve's grandsons, Babe's great-grandsons.
Ray Skillman agreed to display the cars in his collection for the family and fans to enjoy.
"Susannah, Andy, the two boys and I can come up here and look at these two cars. We can go back to memory lane," Buzzy said. "You can just sit down and look at them, and it makes you feel good that those who have worked on it, who are no longer here, are connected with them."
Buzzy walks around the cars, showing off not only his knowledge of the vehicles, but the ingenuity of his friend, Steve.
He shows off an engineered foot pedal, designed by Steve, to perfectly suit the needs of his drive, Pancho.
"Because Pancho's ankle after that crash would not pivot, he would have to pick his leg up and down to move the throttle," Susannah said. "They had to make the pedal hinge from behind the seat to give him the right leverage.""
Buzzy recalls Steve's grandsons were enamored by the cars as young kids, saying the boys would hover over the cars and practically rub the paint off of them.
"Steve is gone now and it's my connection with him. To be able to bring these two cars up here it's just my great pleasure," Buzzy said.
Susannah also admires the two cars sitting in front of her.
"I have a deep, emotional attachment to these cars," Susannah said. "It brings me closer to my dad."
The cars need to be pushed to start, but Buzzy says they run and today, they look better than they ever did.
"I never cared about history. I didn't like it much in school. This was a thing to work on and to win. Then all of a sudden when they are gone, the further you get away from it, you sit there and wish, 'Oh, if I could only have it back," Buzzy said about the cars. "It was a thing of joy and I was lucky to be part of that."
Susannah wears the title of the official family historian with pride.
She continues to piece together the pieces of her family's racing history, compiling pictures, memorabilia and stories from her father and grandfather in their racing careers.
She says she enjoys sharing her family's memories on social media so friends can understand their passion for the sport. She dreams to someday write a book on the Stapp family's racing history.
For now, the Stapps will celebrate 100 years of racing history in their family this Independence Day.