INDIANAPOLIS -- As a prominent professional dance company celebrates its 50th season in the Circle City, their longtime leader prepares to take his final bow.
When Dance Kaleidoscope's Artistic Director first came to Indianapolis in the early 90s, construction of the Circle Center Mall was underway, aimed at rejuvenating commerce in the downtown area.
It was a time before the busy, bustling downtown that is now home to a vibrant sports scene, arts and cultural exhibits and events, businesses and things to do year-round.
"The first period when I first came here was really tough," says David Hochoy, as he reflects on first stepping into the role as Artistic Director. "I felt like I was pushing this boulder up a mountain, and I wasn't going anywhere."
Hochoy says he got to work, choreographing powerful pieces like Carmina Burana, which was widely successful and brought in some donors and recognition.
The company has not looked back since.
As DK celebrates its 50th season this year, Hochoy and the company has made their mark as one of the most influential performing arts organizations in the city.
Hochoy sat at the helm of DK for 32 of those 50 years, and at the end of this season, he plans to take his final bow and retire from his position as Artistic Director.
"I feel very confident that I'm leaving this organization in a very wonderful position," says Hochoy. When asked what he plans to do in retirement, he says he will stay busy and hopefully continue to do choreography. "I still feel young. I still have a lot of energy left in me."
Hochoy had a late introduction to the world of dance, compared to most professionals, but was captivated by the theatre after a trip to London with his parents where he enjoyed live performances of The Sound of Music and Oliver.
"I didn't actually start dancing until I was 20 years old, in grad school," Hochoy said. He says his role in theatre led him to a ballet class.
It was during that time when he discovered his love of dance.
"I was very thankful that I found my passion,"Hochoy said. "It was able to fuel me for a long, long time."
In the 1980s, Hochoy was invited to dance with the legendary Martha Graham Dance Company and toured the world with Graham before coming to the circle city.
"If you are fortunate enough to find your passion then you've got to follow it," said Hochoy.
Now, 32 years into his career with Dance Kaleidoscope, he says working with the young people is what he will miss the most.
Those dancers say they will miss Hochoy and his infectious laugh.
"He's a ball of light. He's a ball of energy, a great sense of humor," said company member Stuart Lewis. "His laugh is so infectious, that we will start laughing with him."
Lewis first met Hochoy while studying dance at Butler University and has been with the company ever since, taking on various new roles and leadership opportunities with DK.
"Getting to train with David has just been such a blessing, because he is such a wealth of knowledge," Lewis said. "We would not be the organization we are, we would not have the voice that we have in this community, if it wasn't for his leadership."
Fellow company member Kieran King stepped out of class to speak with WRTV about Hochoy's legacy and impact on his life.
"He's always going to pull something out of you that you don't think you can give, but you'll find it," said King, who is in his 4th season with DK. "He demands the most out of you, for sure, and you always feel pushed. And I appreciate that, I do."
King says he was first drawn to DK and David's work because of the physicality of his dancers and their performances, which is something the company is now known for in the community.
"He always has this thing that he says, he's like, you wanted to dance, so it's like why not do it," said King.
Dance Kaleidoscope is Indiana's longest running dance company and the 25th largest professional contemporary company in the nation.
Hochoy says dance and the arts are important to the life of a community.
"The arts really teaches us how to live," Hochoy said. "We need more than just going to work and coming home."
He says dance inspires us, teaches us about different cultures and ideas, and provides escape and excitement.
"Whatever it is that thrills you, sports, it all adds up to a very full life," said Hochoy.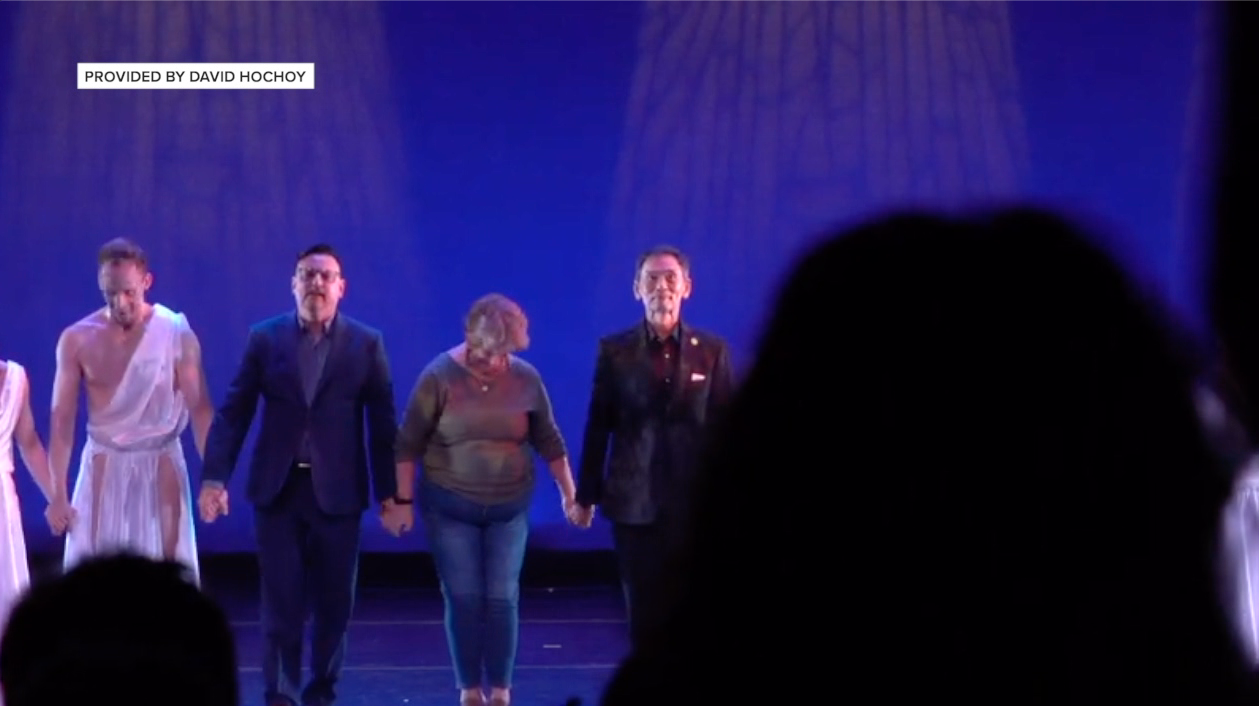 Dance Kaleidoscope launched a nationwide search for a new Artistic Director and plans to announce the new hire this Spring.
You can still see more work from Hochoy ahead of the company's final performance of their 50th anniversary season.
For more information and ways to purchase tickets, visit https://www.dancekal.org/