INDIANAPOLIS — A storied dance company that just celebrated 50 seasons in Indianapolis prepares to launch into a new era under new leadership.
WRTV previously reported on the retirement of longtime Dance Kaleidoscope Artistic Director David Hochoy.
Now, the company's new leader is getting settled in his new city as he plans to honor Hochoy's legacy, while also bringing his own flavor to the choreography and performances.
Joshua Blake Carter has been the Artistic Director for about two months now.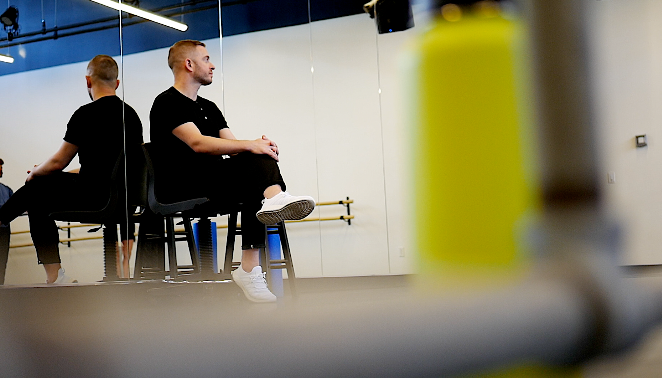 "I just looked at them and almost had tears in my eyes," said Carter. "I realized, I get to do this now. This is where I work."
The Georgia native got his start in the Performing Arts through theater, similar to Hochoy, but the art of dance quickly became his passion.
Carter says he never intended to be a dancer, but he fell in love with it. He went to University of Arizona to study dance.
From there, he danced with Giordano Dance Chicago in various roles, eventually taking over administrative duties as the Operations Manager.
He wore many hats during that time in his career, and at one point, he was a guest at Dance Kaleidoscope to help stage a production of Sneaky Pete.
He met Hochoy and the dancers, and got a good feel for the company, but never pictured returning at the helm.
A friend happened to see the job posting in Hochoy's retirement and urged him to apply.
"I don't do anything without great intention," said Carter. "And so I made sure is this something I wanted, and as soon as I submitted the application, I knew I did."
He says he had been at his last organization for 14 years, so he sat on the idea for a while. It was not an easy decision, but he also realized this type of opportunity doesn't come along very often.
"As the process went on, I got hungrier and hungrier for it," said Carter. "David — he really created an identity for this company, the aesthetic, the way the dancers move. The way they are trained."
He says he plans to continue to train the dancers in the Graham technique, like Hochoy, because so many of their works and movement is tied to it. They will continue to reprise works from this time.
He says Hochoy's works will return to the stage and he wants the dancers trained in Graham's technique so they can give those performances the life the deserve.
But in addition, he is already bringing his own flavor and training to the company by adding more contemporary jazz.
He also plans to bring in more guest choreographers to bring new voices to the stage and challenge the dancers professionally.
"It's like learning a new language, right? Your technique — like ballet, jazz and modern — those are your core language," said Carter. "But then to bring in other choreographers that teach you how to move differently and approach movement differently, it'll be enriching for them but also so enriching for our audiences."
Carter says he is settling well in the Indy area, living downtown immersed in the culture. He hopes adding the new voices to the stage will continue to draw in new people to what Dance Kaleidoscope and Indy as a whole has to offer.
"I think it'll point those eyes back to Indianapolis, as we are a dance town," said Carter. "The arts are alive here and happening."
He says he has enjoyed working with the dancers. They have been so open and receptive to anything he throws at them.
"They leaned right in and got down and dirty with it," said Carter about his first works on the Indy Fringe stage for the company.
He says the dancers are physical and professional, and the audiences can expect the same great work they are used to seeing out of Dance Kaleidoscope with some new twists.
Now, they prepare for their first big show under his leadership, New Horizon. The show is on the Indiana Repertory Theatre stage from Oct. 19 through Oct. 22.
For tickets and more information, click here.