INDIANAPOLIS -- The Indianapolis Department of Public Works is beginning its second pothole blitz of the season Monday.
DPW says it will be using 20 crews, as well as contractors, to fill thousands of potholes across the city through Friday. Workers will tackle as many potholes they can between 7 a.m. and 7 p.m.
The last pothole blitz was from Jan. 30-Feb. 2, where thousands of potholes were filled. But if you've driven on the roads since then, you'd know the roads are still bad.
Here's where Monday's crews will spend their time:
Here is a look at some of the main areas where drivers have complained about potholes. Starting today @IndyDPW crews will focus on filling potholes here as the second pothole blitz begins. The highlighted areas will be where crews will likely spend an entire day. @rtv6 pic.twitter.com/egC6dkKG05

— Nicole Griffin-RTV6 (@NicoleGriffinTV) February 26, 2018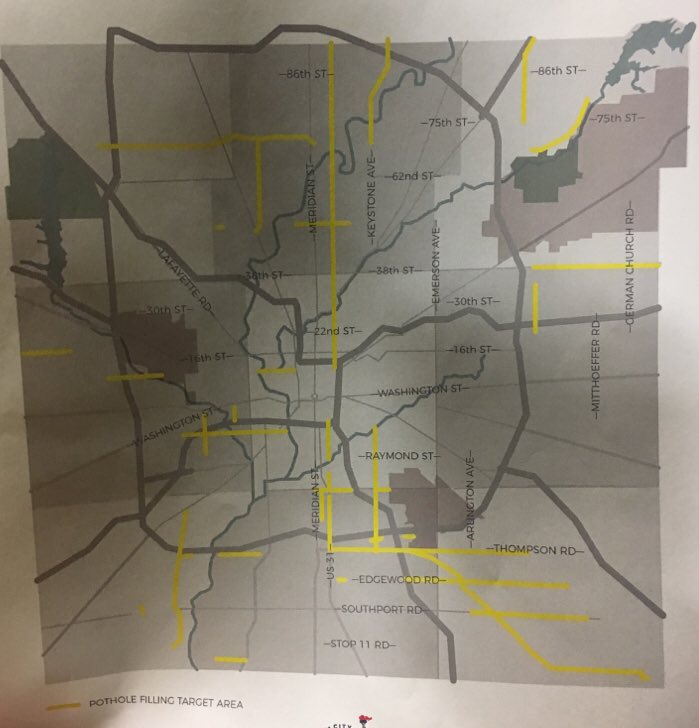 In areas where many potholes are located in the same section of the street, the DPW will use strip patching, which removes and replaces pavement up to 9 inches in depth..The strip patching will continue through April.
Indianapolis Mayor Joe Hogsett has also requested $14 million from the city's rainy day fund to help fix the pothole problem.
PREVIOUS | Indy Mayor Joe Hogsett requests emergency $14M for pothole fixes
"The need is real, the dollars are available, and the time to act is now," Hogsett said Friday.
If you have a pothole to report in the City of Indianapolis, click here  or call the Mayor's Action Center at 317-327-4622.
HOLY POTHOLES | Potholes have been bad this year. Historically bad | Indy Mayor Joe Hogsett requests emergency $14M for pothole fixes | Michigan police officer stands knee-deep in massive pothole | Tire damage from potholes: What to look for | I-70 problem pothole disrupts traffic for 13 drivers | Pesky potholes: Here's why fixing them can take so long, how you can report a pothole problem | Potholes causing problems around central Indiana
Top Trending Videos