JOHNSON COUNTY — A sea of red and white covers the parking lot just southwest of Ray Skillman Stadium on the campus of Center Grove.
Local realtor and father Jake Stiles fires up the grill.
"This is our tribe and it's a sense of community and it really just feels good," Stiles said. He mans the grill adding cheese to a handful of sizzling burgers for hungry football fans.
It is a Friday in the Johnson County community, which means it is time to cheer on the Trojans under the bright lights.
"With all the home games that we have this year, playing the powerhouse teams from every state around us," says Stiles. "We like to do things for the community in general, and so we decided, let's put something together and lets have some fun out here."
Stiles and several other local business owners in the Center Grove community came together last year to create the official Trojan Tailgater, complete with a Facebook page, mobile trailer, hot dog roller, grills and tents. The Trojan Tailgater travels to far away games like when the Trojans faced St. Edward in Canton, Ohio for Game 1. The fans set up shop in the hotel parking lot.
Back on home turf, the community comes together to cheer on the team that is in the hunt for its fourth straight state championship in Class 6A.
"We like winning. Let's just call it what it is," Stiles said. "But if we don't come away with a W, we want to come away with other people understanding what our sense of community is."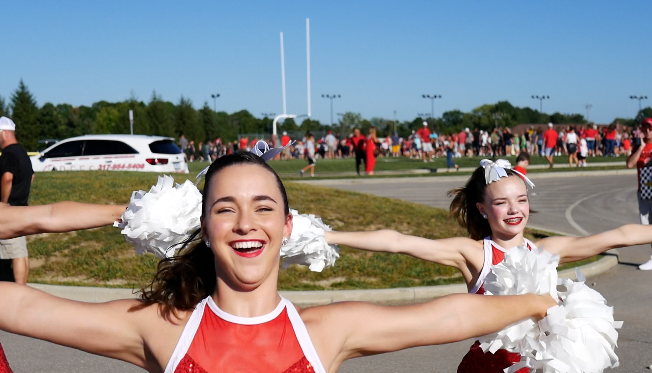 Stiles leads Team Stiles with Coldwell Banker Stiles, serving the community in the real estate world. Other local business sponsors for the tailgate include Rees Restoration, Sauer Dentistry, Barn at Bayhorse Inn and Grant Excavating.
The business sponsor means the food is FREE to fans, and not just fans of the red and white. Stiles says they also invite the opposing team fans to stop by for food and fun at their tailgates and says the Center Grove Athletic Director extends their invitation to the opposing team, many of them from neighboring states this season.
"And honestly, we hope everybody does something like this so that way when we go out and we visit we aren't only going to bring our trailer, but we can then join in with other people's tailgates," Stiles said.
It's about bringing that next-level fan experience to Friday night lights. The amount of families and fans tailgating with campers and tents in the old Maple Grove school building parking lot looks more like a small college campus than a high school game.
Stiles grew up in Greenwood, in the city, but has been in the Center Grove community now for about 17 years with his kids going through the schools here. He says the spirit of Center Grove is something special.
"When you say Trojan Pride, it's a little different over here," says Stiles. "Because there is that sense of camaraderie. Everybody understands it and that statement of Trojan Pride it really means something."
At the Trojan Tailgater festivities on Bantam night, crowds of young players and cheerleaders with their families crowd the practice filed before younger students got recognized at the game. For the Trojan fans, traditions like honoring younger student athletes and athletes from other sports, as well as marching band performances involve more students and makes the night about more than just a football game.
"It's unexplainable unless you really experience it yourself," Center Grove Varsity Dance Fall Captain Grace Greca said. The dancers came out to the tailgate to perform before they head to the field to be a part of the fan experience.
"It feels very welcoming. It feels very small townish even though we are kind of a big community," Greca said. "No matter what the outcome it, it's always just good to see them play."
The Trojans take on Moeller High School out of Cincinnati this Friday at Ray Skillman Stadium with a kickoff time of 7:30 p.m.
The Trojan Tailgater will be sponsored by Team Stiles this week, and the businesses invite any fans to stop by before the game or enjoy the many food options inside the stadium.
"Trojan pride!" says Stiles. "Go Center Grove!"