INDIANAPOLIS — A small gesture of kindness can make a big impact.
That's what young kids are learning at an in-home daycare on Indy's south side.
During the week, Kristen Rider opens the doors to her home to a number of daycare kids.
She says they are family-oriented and she strives to help the kids learn life lessons, especially when it comes to being kind.
Several years ago, Rider came up with the idea of writing letters to people in the community who help them each day like local firefighters, police officers, they even left cards outside for their garbage collector.
That simple gesture made a big impact on one man.
One day in the winter months, she got a knock at her front door.
"He came to our front door knocked and was tearing up," Rider said. "And we were like, oh my goodness, what's going on? And he was like, you guys have blessed me in the best way."
It was Danny Hart at the door in tears. He was going through a really tough time personally and the cards from the kids touched his heart.
Danny took their simple act of kindness and multiplied it.
"Ever since that moment, Danny has just been sharing kindness with us," Rider said. "The kids just, they love him."
Danny stopped by the daycare on his day off bringing the kids pizza, coloring books and crayons.
On his route, he stops by to pickup their trash on Thursdays.
It's a big day for the daycare kids! They cheer for Danny as he honks and waves, forming a special friendship with the children.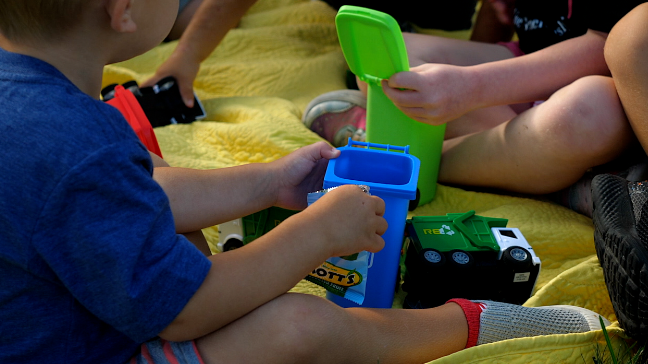 And one day, Rider tells us, Danny went above and beyond her expectations.
"He comes up with this huge trash bag and I'm like Danny, alright, like 'what are you Santa?'" Rider said. "And he told me every Saturday he has been going to Cracker Barrel to find a trash truck for the kids."
He got a little trash truck toy for each of the kids at the in-home daycare, as well as the kids along his route, including customer Damon Cox and his son.
Cox shared a Ring doorbell video on his Facebook of a day when he forgot to bring his trash bin out to the street. His garbage man Danny got out of his truck, walked all the way up to the house, and took Cox's forgotten bin out for him.
Cox was moved by the gesture of kindness, plus he already knew Danny from when he gifted his son a trash truck toy for Christmas.
WRTV shared the Ring doorbell camera after talking to Cox, and it went viral.
That's when we got connected to Rider and her stories of Danny.
"You just don't see people like that anymore," Rider said. "He already has an impact on their lives and mine as well."
Rider also started a campaign on social media to help Danny get a ticket to go home to visit his family. She says he doesn't take many days off and often works over holiday weeks.
"I always say, be a Danny in this world because I mean, he's a beautiful human being and he goes out of his way to make sure that everyone is taken care of," Rider said. "And that's what we need more of in this world, so be a Danny."
Be a Danny. That's what a big red sign read in Rider's front lawn on day this fall.
WRTV coordinated a day to meet up with Danny through Rider along his route.
His employer, Republic Services, also sent representation to surprise Danny along with DPW and other officials in Indianapolis.
The kids waited in anticipation for Danny to show up in his truck.
"He loves what he does. Everyday he comes in with a smile goes home with a smile," said Paul Cardinal with Republic. "To see Danny go above and beyond like he has in this community has been nothing short of great."
Cardinal says the company had no idea about the trash trucks and the acts of kindness until they saw the story on WRTV of Danny.
They came out today to celebrate him and his superb customer service, nominating Danny for an employee of the month award and bringing surprises for the kids at the daycare.
"We had no clue Danny was going above and beyond to take care of these great kids here at this in home daycare," said Cardinal. "And it doesn't surprise me, to be honest, knowing Danny's character and how much he loves what he does and the kiddos."
The kids chanted for Danny as they spotted his truck at the end of the road, collecting trash.
As he drives closer, their chants get louder.
Finally, Danny pulls up to the in-home daycare, dumps their trash and gets out of the truck,
WRTV surprised him as the recipient of the prestigious Jefferson Award for Multiplying Good, to honor his efforts and kindness, making this community a better place for all of us.
He shows the kids each week that kindness counts.
"Even like in playtime, they play Danny," said Rider. "They are like picking up trash, like I'm Danny or any trash truck is Danny."
Danny waves to the kids and is surprised by the honor. He gives them hugs and the gift bags from Republic. The big lesson they are learning, it doesn't matter what you do in life, you can make a difference.
"Make difference, ya know, my mama always told me, whatever you do be good at it," Danny said.